SDCC 2016: The Television Report
News from San Diego came out in a rush, and we've been slowly carving out all of the details to get them organized so it all makes a bit of sense. So, here's the television news:
Supernatural Still Immortal
Despite its long run, even heading into its eleventh season, Supernatural is still full of surprises. Rick Springfield is joining the cast as Lucifer's newest meat suit.
The SDCC panel  included executive producer Robert Singer, Jensen Ackles (Dean), Jared Padalecki (Sam), Misha Collins (Castiel), and Samantha Smith, who will be rejoining the cast as Mary Winchester, after her resurrection last season.
This coming season should see the show refocusing on the elements that have made it such a fan favorite since season one. With Mary WInchester back in the land of the living, we are likely to see more of the complex family dynamics that drove the first two seasons of the show (RIP John Winchester). The panel also promised more quality time with Rowena, Crowley, and Crowley's son Gavin, setting the stage for the quirky comedic moments that provide some respite from the constant world saving.
What Makes Fans Tick
Amazon recently released their first images and an official release date for their revival of The Tick. Continuing the 2016 trend of bringing the '90s back (see Pokemon, Crystal Pepsi, a new Potter book and the return of The X-Files…) the show will be another attempt to adapt a live action version from the Fox Kids animated TV show. (Fox previously attempted a live action version in 2001 that only managed to last nine episodes).
The television shows were originally based on the comedic comic series of the same name, which featured a blue spandex clad hero who ad a good heart (if no great intellect).
The series will premier on Amazon on August 19th.
Darker Take on Archie in Riverdale
Stars Madelaine Petsch and Ashleigh Murray sat down to chat about their roles in the upcoming TV show Riverdale, set to premier mid-season on the CW. The show, based on the Archie comics, promises to take a look at the darker side of small town life and bring more of a film noir bent to the current teen drama lineup.
Madelaine is set to play Cheryl Blossom, the show's head cheerleader mean girl villain. The mysterious death of her twin brother will drive much of the action of this first season and set the stage for Cheryl to evolve as a character. Ashleigh will take on the role of Josie, the lead singer of Josie and the Pussycats. Ashleigh promises that Josie will be more driven than ditzy, leading to some clashes with Archie (played by K.J. Apa).
Neural Links and Dark Matter Things
SyFy's space thriller Dark Matter, in the middle of its second season, had a very lighthearted panel. In smaller press interviews, stars Melissa O'Neil (Two) and Anthony Lemke (Three), talked about portraying a Two's sexy neural link with the ship and hinted at upcoming returns to their old personas.
Earth Is the New Big Bad on The 100
Although fans will have to wait until 2017 for the fourth season of The 100, showrunner Jason Rothenberg and cast members Eliza Taylor, Lindsey Morgan, Marie Avgeropoulos, Richard Harmon, Henry Ian Cusick and Chris Larkin hinted at the central focus the Earth itself will take in the upcoming season.
Rothenberg said, "The Earth strikes back in season 4. It's an unbeatable foe. [The story] becomes not trying to stop it, because it's not stoppable, it becomes how do we survive? There are not enough life boats. The Earth is the ark."
Indra and Luna are back to join in the upcoming chaos, and Zach McGowan confirmed that Roan is set to become a series regular. There will be no time jump, despite the hiatus. Overall, fans will see some fracturing of the series regulars, as Clarke mourns the loss of Lex and struggles with the decision of who to tell about the upcoming radiation apocalypse, Octavia takes an even darker turn as an assassin, and a Raven that has upgraded after her mind meld with ALIE.
Eliza Taylor likens Clarke's new decision to her father's dilemma on the Ark #The100 #SDCC2016 pic.twitter.com/AppmZAP2y6

— Hypable.com (@Hypable) July 22, 2016
Booyashaka! TMNT is Back
Teenage Mutant Ninja Turtles picks up the second half of season 4 this month. Since Leonardo, Donatello, Michelangelo, Raphael, April and Casey have spent so long in space, earth bound villians have had ore time to bring their plans to a head.
Newcomer Gwendoline Yeo will play the role of Shinigami.
Preach
Preacher, which just wrapped its first season on AMC, is based on the acclaimed graphic novels by Garth Ennis and Steve Dillon. Evan Goldberg and Seth Rogen (yes, THAT Seth Rogen) are the executive producers. Rogen and Ennis joined stars Dominic Cooper (Jesse), Ruth Negga (Tulip), Joseph Gilgun (Cassidy), Graham McTavish (The Cowboy), and Ian Colletti (Arseface aka Eugene) at the panel.
Ennis himself praised the transition from one medium to another and Rogen expressed optimism that the success of Preacher will encourage others to tackle hard-to-adapt works.
Dan Harmon Dishes on Rick and Morty
Check out the Retconners Team interview with Dan and the Rick and Morty team:
What's on the Menu
At the iZombie  panel, it was revealed that main character Liv Moore will likely be chowing down on a doting father, a yoga or meditation devotee, and a dominatrix (provided the creators can get it past the networks). Yum!
Walk-On for A Lucky Fan
Have you always wanted to make it big in the TV biz? Well now is your chance. BBC America announced that one lucky member of the Clone Club will get a walk on role in the final season of Orphan Black. Details to follow.
Outcast
Patrick Fugit, Philip Glenister, Wrenn Schmidt, Brent Spiner, and Reg E Cathey, along with executive producer/co-creator Robert Kirkman all talked upcoming hints for season 2 of Cinemax's Outcast.
Sherlock Fans – Don't Despair!
BBC dropped a new teaser trailer for Sherlock at SDCC.
Highlights include: a shiny new supervillain, a cadre of creepy nurses, and Mrs. Hudson laying an epic smackdown on Mycroft. (Haven't we all wanted to do that, at one point or another?)
Sadly, fans will have to wait until 2017 (sigh).
Sports Center for Geeks
Kevin Smith's new venture, Geeking Out, premiered during SDCC. Kevin will co-host with Greg Grunberg in the news report style show on all things geek and fandom related.
A Whole New World for OUAT
The Once Upon a Time cast revealed that they will be traveling to a whole new world as they tackle the story of Aladdin. Graceland star Deniz Akdeniz will be joining the cast as Aladdin and Galavant's Karen David will be Princess Jasmine in the upcoming season.
Virtual Reality at SDCC
Multiple shows embraced the virtual reality experience at this year's SDCC. Mr. Robot had a twelve minute experience for fans that "offer[ed] an inside look at Elliot's backstory"
MTV's Teen Wolf also offered a VR experience, where fans could run from a pursuing evil while being guided by a terrified Lydia.
Earp Alive and Kicking
At the Wynnona Earp panel it was officially revealed that the show had been renewed for a second season. "I'm absolutely thrilled we have the opportunity to deliver more of our witty, female-led, kickass, diverse supernatural series to our passionate fan base around the world," said showrunner Emily Andras.

Time Jump in the Big Easy
The Originals is set to return in January with a 5 year time jump, leading some to speculate about crossover potential (though Candice King suggested in The Vampire Diaries panel that it was unlikely that Caroline would make an appearance). Fans can expect some more backstory for Vincent and possibly new developments in Klaus' love life.
The Magicians Season 2
Syfy's hit show The Magicians revealed the first scenes from Season 2:
Retro Transformers
Transformers: The Combiner Wars launched on August 2nd. In the eight episode digital series, the Autobots and Decepticons have disbanded and returned to Cybertron. An ancient technology enables multiple transformers to combine into one dangerous form (Combiners), and someone has to step up to handle the new threat. feels like some good retro fun to us.
High Stakes for VD's Season Eight
At the Vampire Diaries panel, executive producer Julie Plec announced that the upcoming eights season will be the last fore the long-lived show. The season will center around fighting a big bad known as "Evil Herself". Fans can expect to see the return of Nina Dobrev, more Bonnie/Caroline moments, and a "very dark" premier episode.
MST3K to Netflix
Mystery Science Theater 3000 is coming back! Netflix will revive the show with cast members Felicia Day, Patton Oswalt, Jonah Ray, Hampton Yount, Baron Vaughn, with Bill Corbett and Kevin Murphy coming back to reprise their roles as Crow T. Robot and Tom Servo, respectively. Day will be the new "Mads" on the show (Kinga Forrester, daughter of the original villain). Oswalt will be TV's Son of TV's Frank.
Original host Joel Hodgson returns as executive producer, following a successful Kickstarter campaign to raise money for the new production. The result was $5.7 million, allowing them to produce fourteen episodes.
In the not-too-distant future. @MST3K pic.twitter.com/L9IpZW2Cmb

— Netflix (@netflix) July 24, 2016
New Trailer for American Gods
A new trailer for TV adaptation of American Gods dropped at SDCC.
Author Neil Gaiman, showrunners Bryan Fuller and Michael Green, director David Slade, and stars Ricky Whittle, Ian McShane, Pablo Schreiber, Yetide Badaki, and Bruce Langley were all present at the American Gods panel (we've previously covered their casting here).
Gaiman revealed the book's first chapter was originally penned on a three day train ride from Chicago to SDCC in 1999. Whittle and Badacki revealed they both had intense casting audition (though McShane got off easy with just a phone call to Gaiman).
Adams' Detective in America
BBC America will be bringing its new show Dirk Gently's Holistic Detective Agency to American viewers on October 22. Based on the series of books by Douglas Adams, the series stars Elijah Wood as Todd and Samuel Barnett as Dirk Gently.
The Last Ship Teasers
At the TLS panel, TNT released two teaser trailers that hinted at upcoming happenings.
Highlights include a potential attack on the White House, the return of Tex and biological weapons for President Peng.
Much Love for Teen Wolf
Teen Wolf came away with Fandom of the Year at MTV's Fandom Awards. After working their way down through competition brackets with other popular shows, Teen Wolf fans voted their favorites to the top. The award is a fitting tribute as the show heads into its sixth and final season.
Romance Onscreen…and Off!
Grimm stars Bitsie Tulloch and David Giuntoli revealed they got engaged in April 2016 at the SDCC panel. They went public with their relationship in 2014, after three seasons of on-screen romance. Congratulations to the happy couple!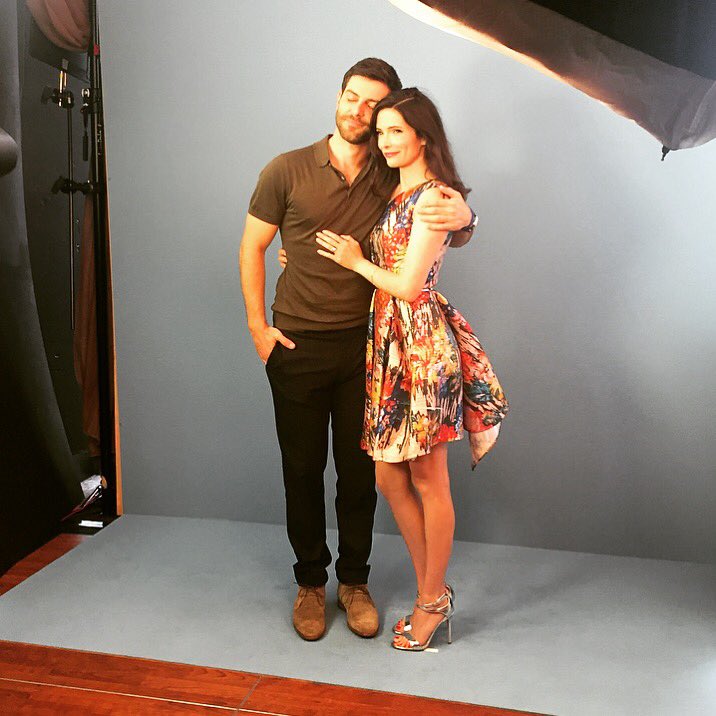 Scorpion Roundtable
Check out Dual Pixels' interview with Katharine McPhee and Ari Stidham of CBS' Scorpion. McPhee plays Paige Dineen, a former waitress turned handler for team Scorpion, and Stidham plays Sylvester Dodd, a "human calculator".
Kiss and Tell
Will Forte, Kristen Schaal, Mary Steenburgen, Cleopatra Coleman, Mel Rodriguez, and January Jones all joined in on a hilarious Last Man on Earth panel to talk kisses from Helen Mirren, improving a threeway, and making out with mannequins.
Twin Peaks on the Horizon
The Twin Peaks revival isn't set to his Showtime until 2017, so there was no official panel. But original star Ray Wise (Leland Palmer), did reveal some info during the Batman: the Killing Joke panel. He will appear in all 18 episodes (all of which were also produced by David Lynch).
Showtime had previously released a full cast list, which includes a few surprising big names: Monica Belucci (Brotherhood of the Wolf), Michael Cera (Juno), Jim Belushi, Trent Reznor,  and Amanda Seyfried.
LGBT Themes in Steven Universe Season 3
Show creator Rebecca Sugar took some time at SDCC to talk about the LGBT themes present in Steven Universe's third season. Many fans had strong reactions after two of the Crystal Gems, Sapphire and Ruby, fused to become Garnet. Although technically genderless, the Gems are voiced by female voice actresses.
Said Sugar: "In large part it's based on my experience as a bisexual woman. It's very important to me that we speak to kids about consent. That we speak to kids about identity. There's so much more I have to say about this. I want to feel like I exist, and I want everyone else who wants to feel that way to feel that way too."
It's a Family Affair
Executive producer Steve Molaro announced that Katey Sagal (8 Simple Rules) will be joining the cast of The Big Bang Theory as Penny's mom. Jack McBrayer (30 Rock), will also be joining as Penny's brother.
Ben 10 Back on Cartoon Network
Cartoon network's animated series, Ben 10, which ran from 2005-2008, is returning in 2017. Ben 10 follows a young boy with a watch like device which allows him to turn into alien creatures.
For Once, NO Surprises From Game of Thrones
The Game of Thrones panel revealed no shocking secrets, given that the next season (set to release in summer of 2017) hasn't even started filming yet. The panel featured executive producers David Benioff and D.B. Weiss, director Miguel Sapochnik, Liam Cunningham (Ser Davos), John Bradley (Samwell Tarly), Nathalie Emmanuel (Missandei), Conleth Hill (Lord Varys), Sophie Turner (Sansa Stark), Iwan Rheon (Ramsay Bolton), Faye Marsay (The Waif), and Isaac Hempstead Wright (Bran Stark), and , of course, Kristian Nairn (Hodor).
Nairn was the real star of the panel, receiving lots of fan love after his character's tragic demise this last season. Sophie Turner did offer this speculation on the future ruler(s?) of the North: "[Sansa] thinks that she and Jon should be King and Queen of the North," Turner said. "But I don't think Sansa thinks Jon is fit to rule the North. He doesn't have the intellect or the savvy that she has. And I concur. He'll make the right decisions, the moral decisions, but whether they'll benefit anyone is something else." It may tak another year, but winter is finally coming…slowly.
Nostalgia, Ingenuity, and Sideburns
In their SDCC panel, the producers and cast of the new MacGyver reboot talked about their plans to keep the reboot true to its roots while bringing it back to fans' screens. The original show, which ran from 1985 to 1992, starred Richard Dean Anderson. Peter Lenkov, writer and producer, said they would love to have Anderson on the show. The episodes will feature the same style of "hacks" and MacGyverisms, lots of Easter Eggs and beloved original characters. Lucas Till, who plays the titular character, will also be rocking the iconic mullet.
Man in the High Castle
The first clips of season two of Amazon's sci-fi series The Man in the High Castle was released at their SDCC panel. The alternate-history series is based on the novel by Philip K. Dick. Executive producer Ridley Scott was unable to attend (being mid-production for Alien: Covenant halfway across the world is a pretty time-consuming endeavor), but stars Alexa Davalos, DJ Qualls, Luke Kleintank, Cary-Hiroyuki Tagawa, Rupert Evans, Bella Heathcote and Rufus Sewell were all on hand.
Captain Power Rises from the Ashes
'80s cult classic Captain Power and the Soldiers of the Future is being rebooted and re-branded as Phoenix Rising. A mysterious teaser trailer was released ahead of its big SDCC reveal:
https://youtu.be/IOrr27ktx1k
Deadline reports that the show is in development with original co-creator Gary Goddard's Goddard Film Group and ex-Syfy execs Thomas Vitale and Craig Engler's newly formed Planet X Productions.
Vampires Back from the Grave?
After officially hitting the pop culture saturation point back in the mid aughts, vampire might be back in a big way with SyFy's new show Van Helsing. The gender bent main character hints at a slightly different take on the vampire slayer mythos. Kelly Overton will star as Vanessa Helsing, descendent from Arthur VanHelsing, who is on a quest to find her daughter in a vampire-riddled post apocalyptic world.
More SDCC news on the way.