2011 Nebula Awards Announced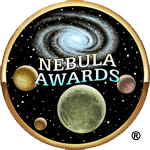 The Science Fiction & Fantasy Writers of America have announced the winners of the 2011 Nebula Awards.
The Nebulas are determined by a vote of the active members of the organization, and are awarded for outstanding work in science fiction and fantasy fiction each year. The awards were announced at the annual banquet, held this year in Arlington, Virginia.
THE RECIPIENTS OF THE 2011 NEBULA AWARDS:
NOVEL: Among Others, by Jo Walton (Tor)
NOVELLA: "The Man Who Bridged the Mist," Kij Johnson (Asimov's Science Fiction, October/November 2011)
NOVELLETTE: "What We Found," Geoff Ryman (The Magazine of Fantasy and Science Fiction, September/October 2011)
SHORT STORY: "The Paper Menagerie," Ken Liu (The Magazine of Fantasy and Science Fiction, March/April 2011)
RAY BRADBURY AWARD FOR OUTSTANDING DRAMATIC PRESENTATION: Doctor Who: "The Doctor's Wife," Neil Gaiman (writer), Richard Clark (director) (BBC Wales)
ANDRE NORTON AWARD FOR YOUNG ADULT SCIENCE FICTION AND FANTASY BOOK: The Freedom Maze, Delia Sherman (Big Mouth House)
2011 DAMON KNIGHT GRAND MASTER AWARD: Connie Willis
SOLSTICE AWARD: Octavia Butler (posthumous) and John Clute
SERVICE TO SFWA AWARD: Bud Webster